BOYERTOWN AREA HEALTH & WELLNESS EXPO is scheduled for Thursday, May 17, 9 am to 3 pm … location will be the spacious Morningstar Fellowship Church, located just off Route 100 in Bechtelsville, PA … will be hosted by Boyertown Area Multi-Service and Gerhart, Hartman & Ritner Insurance … expectation is 80 to 100 vendors including … senior services and retirement communities … fitness centers … pharmacies …. health/organic foods … medical … insurance … and more !
Event is expected to attract approximately 1,000 visitors !! Vendor/booth space reservations NOW being accepted … $175 per booth…Contact Jim Davidheiser at 484-706-3262 or 610-367-2544 ext. 617 … or email jdavidheiser@coveragenow.com !!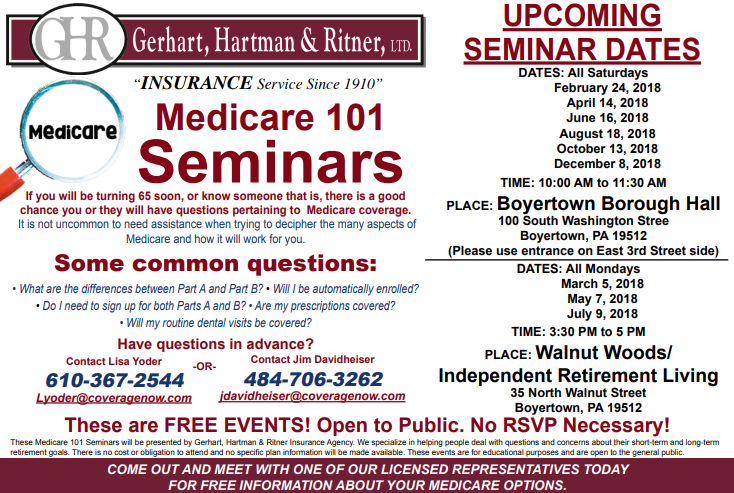 Your Source For Home & Auto Insurance In Boyertown & Red Hill PA
Since 1910, Gerhart, Hartman & Ritner, Ltd. has delivered quality insurance solutions to individuals as well as businesses in Southeast Pennsylvania. Our team of experienced insurance professionals is committed to helping you find a policy or program that fits your needs. We focus on providing personalized attention and exceptional customer service to create an experience that's difficult to find in today's market. At Gerhart, Hartman & Ritner, Ltd. we'll work with you to ensure that you and those you care about most are protected.
Our Locations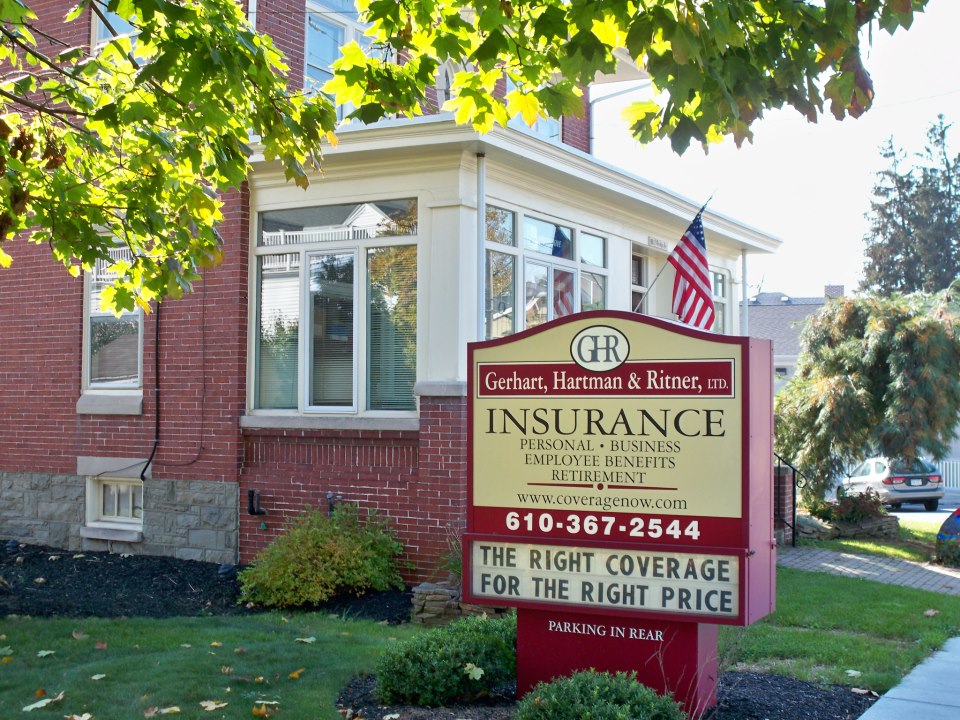 Boyertown Office
138 S. Reading Ave.
Boyertown, PA 19512
Phone Number:
Main office:
610-367-2544
Fax:
610-367-2656
Office Hours:
Mon:
9:00 AM - 5:00 PM
Tues:
9:00 AM - 5:00 PM
Wed:
9:00 AM - 5:00 PM
Thurs:
9:00 AM - 5:00 PM
Fri:
9:00 AM - 5:00 PM
Sat:
By Appointment - 12:00 PM
Sun:
Closed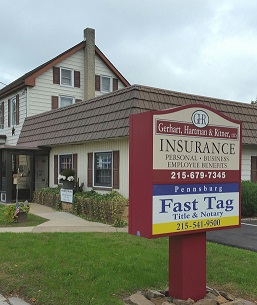 Red Hill Office
262 Main Street
Red Hill, PA 18076
Phone Number:
Main office:
215-679-7345
Toll free:
888-819-2762
Fax:
215-679-6464
Office Hours:
Mon:
8:30 AM - 8:00 PM
Tues:
8:30 AM - 8:00 PM
Wed:
8:30 AM - 8:00 PM
Thurs:
8:30 AM - 8:00 PM
Fri:
8:00 PM - 8:00 PM
Sat:
9:00 AM - 2:00 PM
Sun:
Closed