Motorhome Insurance
It is More Than a Vehicle. It is a Lifestyle
As a motorhome owner, you get the best of both worlds by combining the freedom of the open road with all of the conveniences and amenities you enjoy at home. And just like your home, your recreational vehicle is a big investment that should be protected.

Motorhome Insurance from Gerhart, Hartman & Ritner, Ltd. is a convenient and affordable way to ensure the safety of you, your passengers, and your belongings on the road.

Your motorhome policy from Gerhart, Hartman & Ritner, Ltd. is designed to provide the rates you want with the coverage you need, with basic protection options such as:
Collision Coverage – for loss or damage to your recreational vehicle resulting from an accident
Comprehensive Coverage – as extra coverage against losses from fire, theft, or vandalism
Bodily Injury Liability – to pay medical expenses to others after an accident
Property Damage Liability – for damage caused by you to another person's property
Extra Protection Matters
For an increased level of security, additional insurance options such as Medical Payments coverage, Emergency Roadside Assistance, and Premium Towing and Labor are also available. Custom equipment such as quality sound or entertainment systems can also be covered for an extra premium.

Gerhart, Hartman & Ritner, Ltd. wants to ensure that you receive the best insurance solutions at the best price possible. You may be eligible to start saving today with discounts for:
Association memberships
Completion of a driver safety course
Insuring multiple vehicles
Combining your Motorhome Insurance with other policies from Gerhart, Hartman & Ritner, Ltd.
Our team of RV Insurance specialists is ready to discuss your insurance needs and your budget to help design the right policy that keeps you and your motorhome, or travel trailer, safe on the road.

Wherever your journeys may take you, rest easy with the peace of mind of Motorhome Insurance from Gerhart, Hartman & Ritner, Ltd..
Our Locations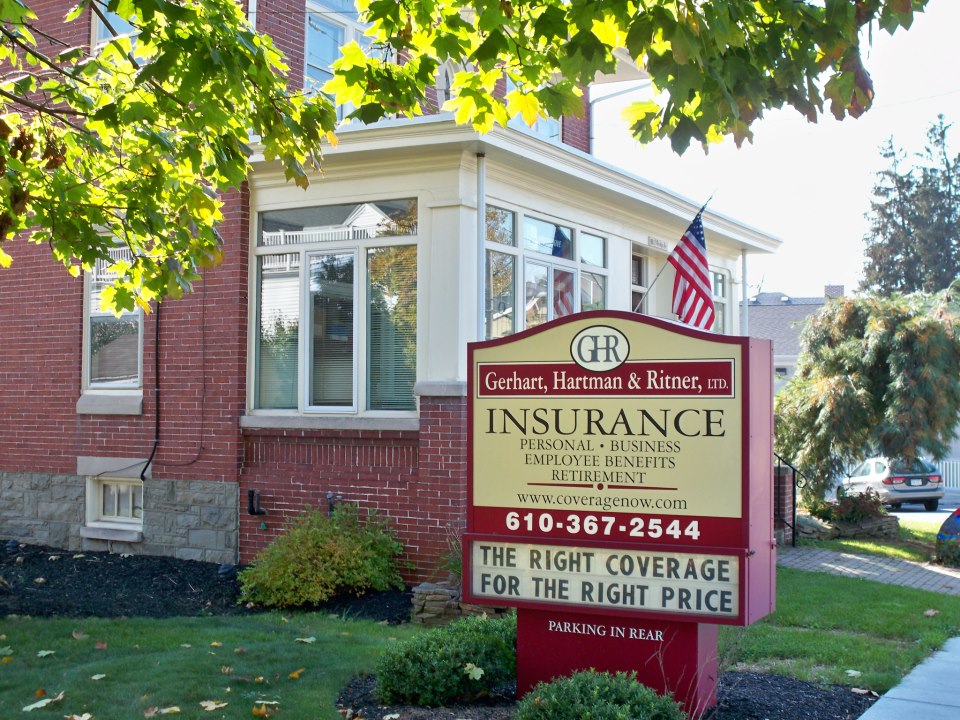 Boyertown Office
138 S. Reading Ave.
Boyertown, PA 19512
Main office:
610-367-2544
Fax:
610-367-2656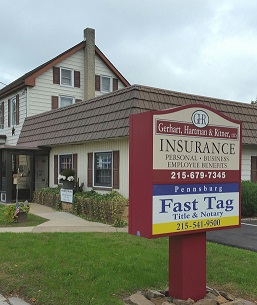 Red Hill Office
262 Main Street
Red Hill, PA 18076
Main office:
215-679-7345
Toll free:
888-819-2762
Fax:
215-679-6464
Testimonials
Claim was handled expeditiously & professionally at both local & home office levels. Thanks to all!!
Thank you for all the help with our recent claim! Your service was good as always.
Prompt communication throughout the claim process. Car is at the body shop. Other damage was detected and reported to insurance by body shop. Insurance representative called to acknowledge the additional damage and is sending additional funds to cover the repair. Thank you to all for expertise and assistance in resolving this claim.
Haley did a wonderful job! She was able to find an insurance company that could save us money. Keep up the great work, Haley! We will definitely tell people about our savings & great customer service.
All went smoothly with dealing with your agency and repair process.
We are very pleased to rate your service with a perfect score every time. For this reason, we continue to do business with your agency.
Alyssa is very friendly and willing to help. She was a great help on my recent claim for an accident I had during our last snow storm. My claim to Selective Insurance was handled satisfactorily and my car is like new again.
Alicia has been great to work with during this incident. Really feel like your customers matter.
Very pleased with the service provided in helping me deal with the loss of our car. Thank you!
Very professional. Spoke with Haley and was very satisfied for the route taken. Doing great for my needs!
The claim went smoothly - MMG was very responsive as well as GHR, who are always on top of any issue. Thank you.
Thanks for all your help with my misfortune. I would also like to thank Ms. Springman for her assistance. You (Deb Hutt) and the staff have always been very helpful and assisted me when I had any questions. I was pleased with the turn-around time on this particular event. Again, I convey my deep appreciation for the good customer service.
You do a great job! Thank you.
A great job was done! Deb explained what needed to be done in detail. Every question answered. Got me in touch with . . . another agent who even set up a reservation for . . . rental car.
Everything was handled very nicely and fast. No problems at all. Thank you.
My claim was handled quickly and professionally. My agent (Beth) was her usual efficient self. Thank you.
Just want to thank you for your prompt and courteous service. Thank you.
We want to thank you for all the attention you have given to us throughout this process. We really appreciate all the extra help.
My business with Gerhart, Hartman and Ritner has always been friendly and professional. My mishap in December was very upsetting to me but you were very kind and understanding and I appreciated that. Thank you.
I was very satisfied how everything was taken care of.
The entire transaction with GHR and Maine Mutual was very smooth when I incurred a repair situation with my vehicle. My vehicle is now repaired and everything is good. Haley is always available when I call and always provides good advice with a pleasant demeanor.